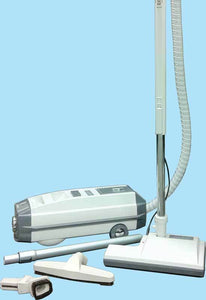 This retro stylePerfect brand Canister is designed after the same classic style you grew up with. but it is much lighter with  more efficient carpet  power Nozzle.  The motor on this vacuum pulls an amazing 125" of water lift, giving it the same suction as many central vacuum units. There are not many vacuums on the market today, with the suction power of the perfect canister. The wide 15" power nozzle works on bare floors and  will eat pet hair for breakfast! 
It also comes with an electronic circuit breaker, that will prevent many belts from breaking. If something is vacuumed up in to the power head such as tassles on oriental rugs, or shoe laces, or even a sock under neath the bed, the power head will automatically turn off, to prevent the belt from breaking.
Takes C Style bags
hose is over 6 foot long for superior cleaning for cars stairs ext. 
Carpet power hare works great on bare floors and carpets.
more powerful than upright vacuums, with a larger motor
15 inch I-Shaped power nozzle for a wide cleaning path

10.2 Amp

1175 watt motor

telescopic wand for extra long reach for hard floor brush

Durable plastic canister designed with same specifications as the lux classic

Great for users with asthma or allergies

electrostatic after-filter to remove harmful particles from the air

6 foot 360 degree swivel hose

1 year warranty