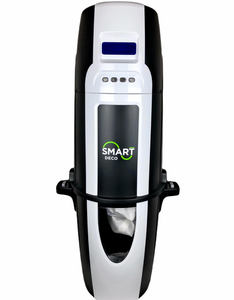 New in the box Smart  brand central Main Power unit only  model SMD 700  designed to clean large sized homes up to 12000 sq foot homes . It features a 
Gore®
self-cleaning filter that filters particles and protects the motor. The 8 gallon dirt dump bin is easily removed with a simple latch system with a strong seal to prevent dust from leaking. Includes mounting bracket and screws for installation. Contact us with any questions you may have, thank you!
* Hose kit not included please see our eBay store to see our hose kits. this unit will work with any brand hose kit.
   Sold at a Great price to move fast.

125 CFM Air Flow

700 AirWatts

Thru-Flow Motor

72 dBA Sound level

120 V

LED screen

Comes with Wall Mounting Bracket