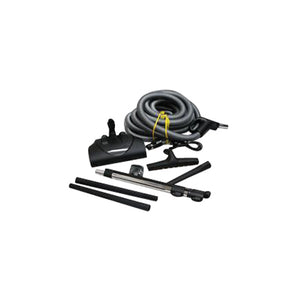 This Wessel cleaning set combines the EBK360 electric powerhead with a 35 foot Soft Touch Total Control full swivel electric hose and deluxe attachments that provides the capability to effectively clean all surfaces.
Rugs and carpet can be cleaned with the Wessel-Werk EBK360 which is packed with features including 5-position height adjustment, double-swivel neck, Chevron brush roll, cogged belt and LED light.  The adjustable wand enables it to be set at the most comfortable height.  The bare floor brush, crevice tool, upholstery nozzle and round dusting brush area available for cleaning of all other surfaces.  A pair of plastic wands are included with use of these tools as well as extensions to get to hard-to-reach areas.  A handy wall caddy allows the powerhead and wand to be stored on a closet wall.
This package is available with either pigtail or direct connect ends. The pigtail style is for use with low voltage inlets. The electric pigtail cord is plugged into a nearby electric outlet. The direct connect style is compatible with all electric inlets.
Includes:
electric hose

Wessel EBK360 power head

bare floor tool

dusting brush

upholstery and crevice tools

telescopic wand

set of 2 plastic wands

hose hanger